Veterinarian / Owner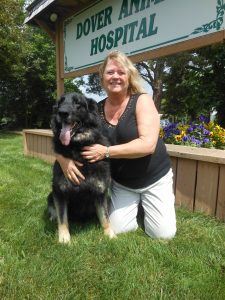 Dr. Jones grew up in Toronto, and received her Doctor of Veterinary Medicine in 1981 from the Ontario Veterinary College in Guelph Ontario. She established the Dover Animal Hospital in 1985, at the hospital's first location on Market Street. The hospital then moved to it's present location on St. Patrick Street in 1995.
Dr. Jones lives near Port Ryerse with her husband Bob, who owns Castle Lawn Services. She has two sons, Jeffery and Kevin. Her animal family includes two dogs, seven cats and two horses. Her interests include traveling, horse back riding, her vintage jaguar, and enjoying her weekend stays at her cottage in Muskoka. She is a member of the Corvettes of Southern Ontario, and many equine organizations.